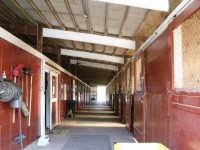 We have a very clean barn and like to keep it that way. Our stalls are cleaned daily.
We offer two size stalls, we have our regular size then we also have to offer our deluxe 10' x 20' stalls. Stall doors slide open with plenty of space to exit/enter. Currently both sizes are available.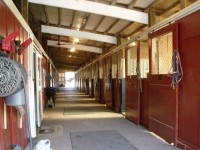 All stalls have been recently remodeled with new mats and stall flooring. There's also an intercom from the barn to the house so any questions or assistance that you may have or need will be serviced immediately.
We offer month to month or one year leasing options. Also if all you are looking for is temporary boarding for a few days while on vacation; we can do that as well. Please feel free to call or contact us for pricing or any monthly move in specials we may be offering.